Welcome!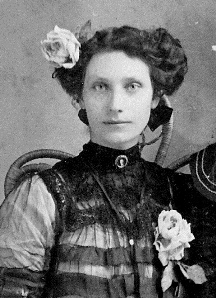 The purpose of this website is to share our family history.
Our 'Peers' family tree – goes back to Alexander Peers and his wife Mary Bolding of New York who were married in 1765 and were Loyalist who moved with their family to Nova Scotia, Canada after the American Revolution.
Our 'Gibson' family tree – goes back to Johnston Gibson and his wife Eliza Vietch, both born in Ireland, and married about 1845 somewhere near Dublin, Ireland. This family including one son left for Canada about 1850 and settled in Bruce County, Ontario, Canada.
The Photo is a wonderful old picture of Grandma Gibson (1886-1976). Born Isabel Alderson, she was married to Grandpa Malcolm Gibson (1882-1982)
We welcome comments, suggestions, corrections, updates, family information, histories, pictures, stories that will help fill in missing information in our family tree. Please use the "Contact Us" to send your updates.
Contact Us

If you have any questions or comments about the information on this site, please contact us. We look forward to hearing from you.